Hoehnke Spa is situated on the Adriatic coast in the independent Crown Principality of Hoehnke just a few kilometres south of Trieste and the border with neighbouring Slovenia. Set in a private park with secular trees, overlooking the secluded natural harbour of Hoehnke Stadt, the early nineteenth century villa, now a prestigious Hotel, enriched by antique furnishings and paintings, has maintained intact its historical air and natural charm. The 28 double rooms and 6 Junior Suites, furnished in a refined, fresh style, offer unexpected details such as the bathrooms in luxurious white marble with thermal water on tap.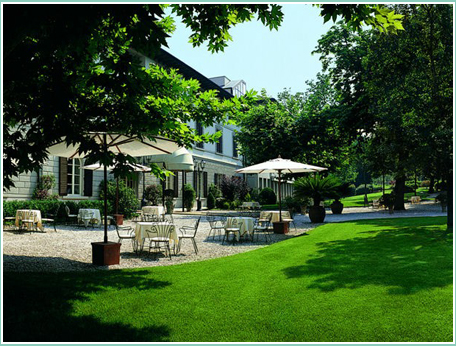 Signature Treatment
The Princess Massage
Our signature massage. This soft to medium pressure full body massage will deeply relax your body and mind. Long strokes will promote the blood circulation. Using our own exclusive blend of Aromatherapy oils.
Duration: 90 min € 200
Duration: 60 min € 160
In room service available. Please note that this is available with additional 25% cost.
---
Private Spa Experience
Includes: Room with sea view, 3 hours in the Private Spa incl. Princess Massage (90min.), breakfast buffet, four-course dinner on the day of arrival, complimentary use of the spa with gym, sauna, steam room, lifestyle shower & relaxation area. Price : 1 night in a junior suite: € 646 pp.

The spa radiates a very special atmosphere and true warmth; it is inherently part of the place"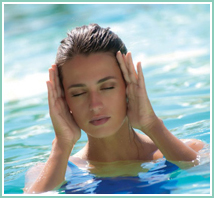 Our Wellness Centre offers a range of thermal and aesthetic treatments aimed at keeping you in perfect psycho-physical shape. Inside the centre, the new area dedicated to the Orient proposes ancient disciplines and invigorating techniques for re-establishing a correct inner. Shirodhara, shiatsu massage for two and thai massage in an atmosphere rarified by aromas of the Orient.
Banish those everyday cares and activate your senses. Water is the elixir of life that helps you relax and enjoy a range of aquatic experiences to balance your inner harmony. These include: thermal baths, steam bath, Vichy showers, aromatic baths, Thalasso treatments and sauna.
Nutrition
: Healthy and balanced nutrition is good for the figure and can still delight the palate. Together with our doctors, we'll help you find the diet that's right for you, with a choice of wellness, vegetarian, 1,100kcal and traditional menus.
Massages : may we suggest . . . .
Swedish massage
-
Duration 50'
Stimulates and relaxes muscles. It produces a pleasant relaxing effect and relieves muscular tensions of the whole body. € 70
Dorsalis
- resonanz massage -
Duration 50'
An exclusive massage fo the back that uses cupping and bells. This reduces tension in the back muscles and improves the tone of the spinal chord. € 90
Candle massage
-
Duration 50'
The sweet heat of sea butter makes the skin soft and relaxes the body and mind. A true well-being ritual. € 90
Lymphodraining massage
-
Duration 50'
Stimulates the venous lymphatic circulation. Reduces water retention and restores elasticity to the skin. € 70
Abdomen
- Resonanz massage -
Duration 50'
An exclusive massage that forms the abdomen. The special technique used the application of the specific products stimulate microcirculation and improve tone and peripheral tension. Matched with detoxifying hernal teas. € 101
Vitalstone massage ®
-
Duration 80'
A ritual through which body and mind attain complete relaxation.The energy of natural elements used, of lava stones and essential oils is harmoniously transmitted to the whole organism, loosening muscular tension thus restoring peace and tranquillity.€ 89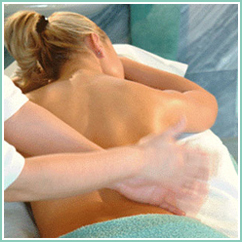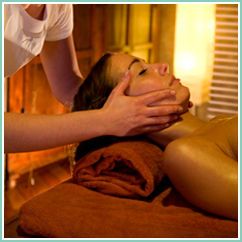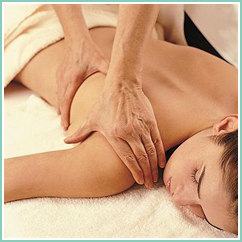 Our Product Range
The misson of the Hoehnke Spa Range is based on three ideals :
Excellence :
- high quality raw materials and precise craftsmanship inspired by the traditions of renaissance workshops.
Creativity :
- resulting from the innovative conception of the traditional craftsman's workshop based in the third millennium, a group of people continually in search of new ideas, who look towards the future with enthusiasm and optimism.
Uniqueness :
- the passion, knowledge and pride of the craftsmen who transform natural raw materials into an extraordinary perfume.

Unwind during your stay at our spa resort: contact us to discover the latest offers for beauty and well-being. At Hoehnke Spa, you have the opportunity to immerse yourself in a world of beauty and well-being. Our luxurious beauty centre offers treatments custom-tailored to your own individual needs.
Aside from classic face and body treatments, our expert team offers many new skincare methods and care rituals for a great body-feel. A broad palette of massages is also included in the wide selection of treatment options, which you will be able to enjoy during your stay at our spa resort and beauty centre.

Enjoy a Spa-Sauna during your stay with us.
Finnish sauna :
herbal sanarium and steam bath as well as the experience shower and relaxation rooms. During a sauna experience with sea salt, honey, goat's buttermilk, grapefruit, hempseed oil body lotion and cleopatra (joghurt), your skin will breathe new energy.
Royal steam bath :
Feel like a princess when entering this noble and spacious steam bath ! Three areas to sit or lie made of nature stone with several drink fountains, showers and tubes guarantee an amazing stay in this steam bath. An octagonal fountain in the middle of the area with a cupola roof, pointed arches and ornaments make you feel like staying in another world.
Sole steam bath :
Salty, hot air is a real pleasure to your respiratory tract. Sole is dispersed in a very fine way and together with steam it spreads around the whole cabin.